Everything You Need for an Online NSP Business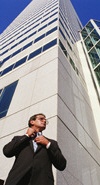 HART On Web provides you with a complete, end-to-end solution for an NSP online business. Your HART On Web website.
• Draws in new customers with search engines.
• Provides shopping-cart and NSP-directed check-out services.
• Ensures that you get credit for all sales.
• Ensures that new members are signed up under you.
• Enables your existing customers to shop through your website.
HART On Web maintains your customer's shopping cart and transfers it to NSP's check out system with your NSP ID attached. This system signs up all new members under you. Orders are shiped automatically by NSP. There is nothing you need to do.